As more enterprises gradually understand the advantages of Enterprise File Sync and Share (EFSS), the EFSS market size will supposedly grow from 1.1 billion dollars in 2015 to 3.5 billion by 2020, as per Markets and Markets. Naturally, Indian businesses are now opting to switch to this software.  Unfortunately, many are still in the dark about the technology. This is problematic as the need for a strong Enterprise FSS solution is becoming critical within many organizations. So, to familiarize businesses with this enterprise file sharing solution, we've compiled this handy guide below:
So what is EFSS all about?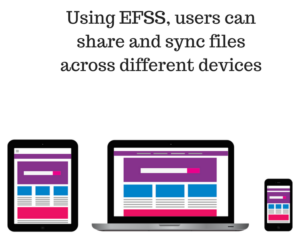 Enterprise File Sync and Share allows users to access files from anywhere, share files with others, and synchronize files across devices. It enables user collaboration and improves productivity in digital work-spaces. Users can synchronize and share photos, videos, documents, and files across different devices, including desktops, tablets, and smartphones. Furthermore, it can enable secure file sharing within the company or externally with customers or partners or even on mobile devices. Collaboration and security support are key features that fulfill the priorities of Indian businesses.
File syncing and sharing was a more of a consumer service. Even now, many Indian firms use consumer solutions, such as Dropbox. Unfortunately, these products distribute the content outside of the corporate firewall, thereby compromising the security of company information. Thankfully, storage vendors are slowly understanding the necessity of a platform that is not just secure but that which the enterprise wholly manages and owns. Using an Enterprise File Sync and Share service such as FileCloud, businesses can store enterprise files on-premise or in the cloud or hybrid.
Advantages of Using Enterprise File Share and Sync?
Ease of Use
Many Indian companies collaborate with thousands of customers and external parties. As a result, it's not possible for them to use their personal file sharing system. Old IT systems must create a new user account after acquiring the related permissions and RSA keys and configuring and connecting to a VPN. Thus, the entire setup becomes extremely disorganized and unmanageable. However, companies that use EFSS find these activities a lot easier.

This is due to that fact that the system is widely accessible, centrally controllable, easy to use, and supported by a whole security group.
Better Collaboration
Document sharing among users becomes easy with this file sync and share software. Earlier, the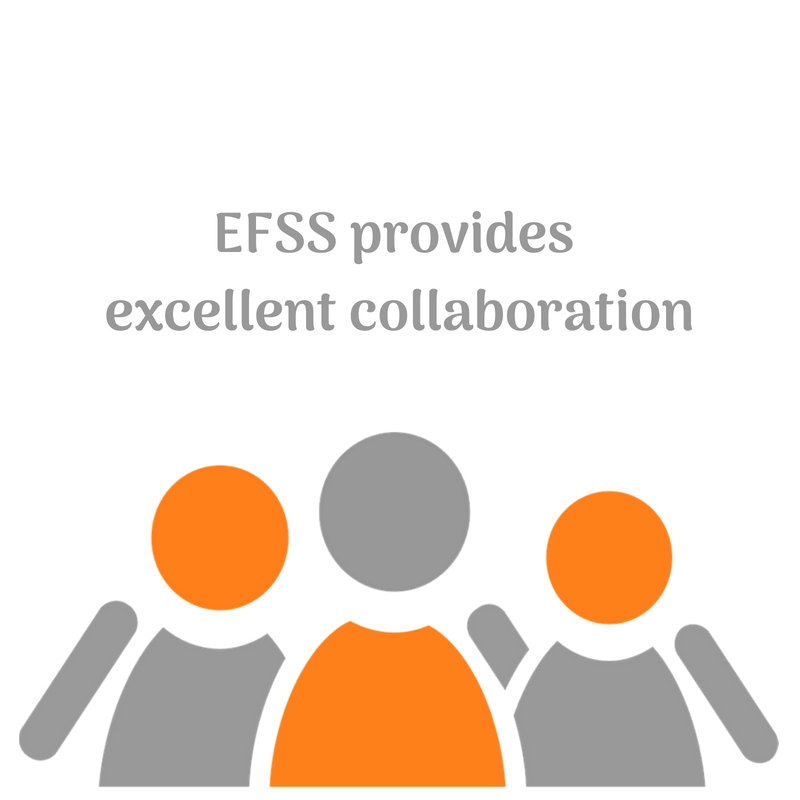 process would usually be handled by a central content management program, which was a complicated model that the service would access to manage versions and changes. However, with the new breed of EFSS software, Indian companies have more leeway when it comes to a distributed model.
Consequently, this allows different employees and groups to distribute and edit content and files as required. Furthermore, this can be done over devices including phones and tablets. Not only are these files viewable to users, but they can even be edited in real time.
Boost Security and IT Governance
The Enterprise File Sharing software allows users to be on-boarded within minutes, with their data becoming accessible from any device. However, maintaining security and functionality can be challenging. Nonetheless, reliable management tools and well-established APIs in these solutions allow IT to cut down on time while applying data governance policies. The majority of cloud EFSS providers are now introducing new governance functions almost weekly, including user auditing and retention policies.
Minimize Expenses  
Companies shell out a lot of money for scaling, redundancy, failover, and maintenance. However, these activities are not entirely devoid of risks. Thanks to the Enterprise File sync and share solutions, organizations no longer need to be concerned about these infrastructure-level activities. The maintenance requirements can all be outsourced without a hassle. Likewise, moving the bulk of the files to this software de-clutters these systems as well. Therefore, this greatly reduces the cost and enables IT to concentrate on critical maintenance.
Hybrid Backup
Hybrid cloud deployments are an on-going trend in Enterprise File Share and Sync solutions. Several Indian firms must still maintain on-premises hosting and storage for sensitive data and apps for usage and compliance reasons. Because of this, many Indian companies are deploying a hybrid solution that is a combination of cloud and local storage. Moreover, maintaining a cloud backup of the files offers an additional layer of redundancy against common service problems, irrespective of whether they arose from the Enterprise File Sharing and Syncing side or the ISP side of things.
Implement a Cost-Efficient Enterprise Solution 
Considering the number of services offered, this technology is quite affordable. Companies will thus have no trouble justifying the migration in using the Enterprise File Share and Sync software
Problems of Not Using Enterprise File Share and Sync
The common threats to enterprise content and files in such instances include:
As the demand for bring-your-own-device increases, so does the threat of under-secured mobile devices. Without a secure Enterprise File Sync and Share, organizations can't enable secured access from remote mobile devices.

With so many endpoints, companies can't manage file creation and regulate sharing with legacy tools easily. Enterprise file sync and share helps business through logs, alerts and reports about employee activities.  The lack of this software may encourage user activities which violate those companies' policies.

Shadow IT is now a reality. Therefore, it is extremely problematic if users make security-based decisions that they are not authorized for, like selecting the less secured file sharing tools. Unless you have Enterprise File Sync and Shre, this will become a common problem in the organization and your business and reputation will be at risk.

The lack of Enterprise File Sync and Share could result in poor encryption or even no encryption at all. This exposes the data, both at rest and in transit.

Malware and malicious activities could result in data loss within any organization. Many Enterprise File Sharing systems come with numerous inbuilt data loss prevention features. These features could save your company from critical data loss.
Concluding Remarks
India is on the fast track to becoming one of the most robust business markets in the world, and your company needs to keep up. However, constant issues with security and communication can thwart your growth. So, opt for the right EFSS platform and eliminate the issues preventing your firm from achieving its full potential.
Contact us in case you have any questions of need any information regarding selecting an for your organization.
Editor for BestiTech Software Services Ltd