Bestir Tableau team consists of smart technology experts in Database, IT environments, and Enterprise software areas along with practical experience using data and visual analysis to help solve real business problems.
We empower our clients with interactive Worksheets and dashboards that allow them to visualize, and understand their data better, and enable them for better decision making.
About Tableau
Tableau is one of the leading Business Intelligence software that turns available raw data to useful interactive business data. Tableau uses visual query language that converts drag-and-drop actions into data queries, allowing users to quickly find and share meaningful data. A distinguishing feature of Tableau is that it supports heterogeneous data environment. In other words, whether the data resides on-premise or Cloud, Tableau can work with all those data simultaneously. Tableau includes more than 40 data connectors to extract data from the database.
Connect more data
Map your data on the map
Big data, live or in-memory
Share and Collaborate securely

Connect to data on-premise or in the cloud: whether it's big data, SQL db, Spreadsheet, or cloud apps like Google Analytics and Salesforce
Access and combine disparate data without writing code.
Power users can pivot, split, and manage metadata to optimize data sources.

Find out the "Where" from the data. Create interactive maps quickly using built-in postal code features.
Create interactive maps quickly using built-in postal code features.
Use custom geocodes and territories for personalized regions, like sales or service coverage boundaries.
Tableau maps are specifically designed to help your data stand out.

Tableau is lightning fast in extracting and working with data offline or in-memory.
Using its strengths in utilizing advances in database and computer graphics Tableau can handle huge datasets very easily.

Collaborate on data projects in a new way.
Share visualizations and underlying data securely using Tableau Server or Online versions.
Create a team environment such that all the team members can share and collaborate on trusted data.
Tableau workbook and business dashboards
Leave drab, static charts behind. Enter the word of dynamic data visualization and analytics, Grab data from multiple sources, explore data in various dimensions, Use interactive Tableau dashboards to discover hidden insights on your organization or client's data.
Bestir offers Remote Tableau Services
We provided Data Analysis, Design & implementation Services to visualize your data effectively. The amount of data being collected and stored is increasing exponentially. Raw data is difficult to understand and act upon. Rich and easy dashboards that can be filtered, grouped, and drilled down to understand top-down or bottom up and generate actionable insights.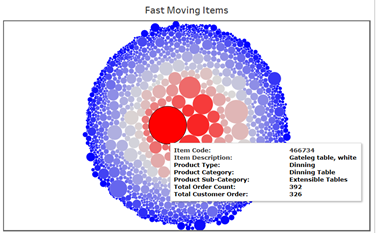 Example of charting Fast-and-slow moving items in a Warehouse:
The chart depicts item movement in a warehouse
The Bubble chart has # customer orders as a size parameter, so the item with most orders shows as the biggest bubble.
The Quantity ordered is the color parameter, with bright red indicating that item with most quantity
The item with the biggest and brightest bubble is the fast moving item.
SCATTER CHARTS TO GROUP THE ITEM MOVEMENT IN A WAREHOUSE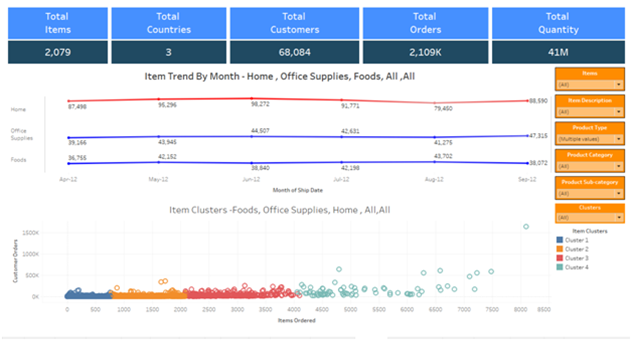 This chart takes the number of customer orders and number of items ordered to plot the graphs.

Scatter plot has 4 clusters. These clusters are created in Tableau to show the # of items falling into each cluster (range). The item that is in the far top right corner is the fast moving item.

This example contains worksheets and dashboards for a client to analyze their warehouse storage data. Historical warehouse movement data was taken as source and dAta volume was over 2 mil Records.
As you can see Tableau brings color, life and understanding to Raw data. Even huge and complex data can be sliced and diced quickly to provide precise and engaging dashboards.
Bestir Tableau Development Services – Customize Tableau to empower you to take data driven decisions.
Data Analysis and advanced Analytics
Data Visualizations and Optimizations
Build Worksheets and Dashboards
Migration from other visualization technologies to Tableau
Maintenance and support
Bestir Tableau Training Services – Train your team in Tableau to help you maximize your ROI.
Fully Managed Tableau Services - Dedicated team to take care of your Tableau needs
Dedicated Tableau development and/or support team
24*7 Production Support
Tableau Environment Monitoring and Troubleshooting
Bestir Tableau Development and Support Methodology.
Bestir follows an organized project methodology to achieve your objectives