FileCloud Update- v18.2
Codelathe has released a new version of their Filecloud product – FileCloud Server Version 18.2. This update includes many new features to meet your business needs, Enterprise antivirus integration, the ability for users to manage shares in shared folders, PII Pattern Search, support for FIPS 140, FileCloud DocIQ, Metadata Support in FileCloud Sync and Drive app. 
With this update, FileCloud administrators can now manage FileCloud deployments. This includes better error reporting, more control over notifications, and better monitoring of MongoDB clusters.
How does this FileCloud update help the user meet Business needs?
For the user, this update makes it easier than ever before to integrate FileCloud with their business needs. The new DocIQ assistant integrates directly into Microsoft applications. The FileCloud Drive and Sync clients now provide the same functionality as the User Portal. Furthermore, you can now access FileCloud options directly in SalesForce.
In addition to direct integration, this update also provides support for more file types, such as viewing medical files and previewing more types of Adobe files.
This post talks about two main features of v18.2. The FileCloud Anti-virus integration & DocIQ.
FileCloud Enterprise Antivirus Integration
With Top Security Standards, FileCloud now integrates with Enterprise antivirus solutions like Symantec Protection Engine, McAfee or any other anti-virus that supports ICAP protocol. This, thereby, enables secure collaboration across any organization and protects their data regardless of the FileCloud location.
Furthermore, these security features address the increasing threats organizations are facing, by integrating with anti-virus solutions to defend, detect, and recover securely and stay within compliance requirements.  
Hence, with this feature, you as an administrator or a corporate IT Security manager can rest assured, knowing you have protection from Ransomware using a content heuristic engine.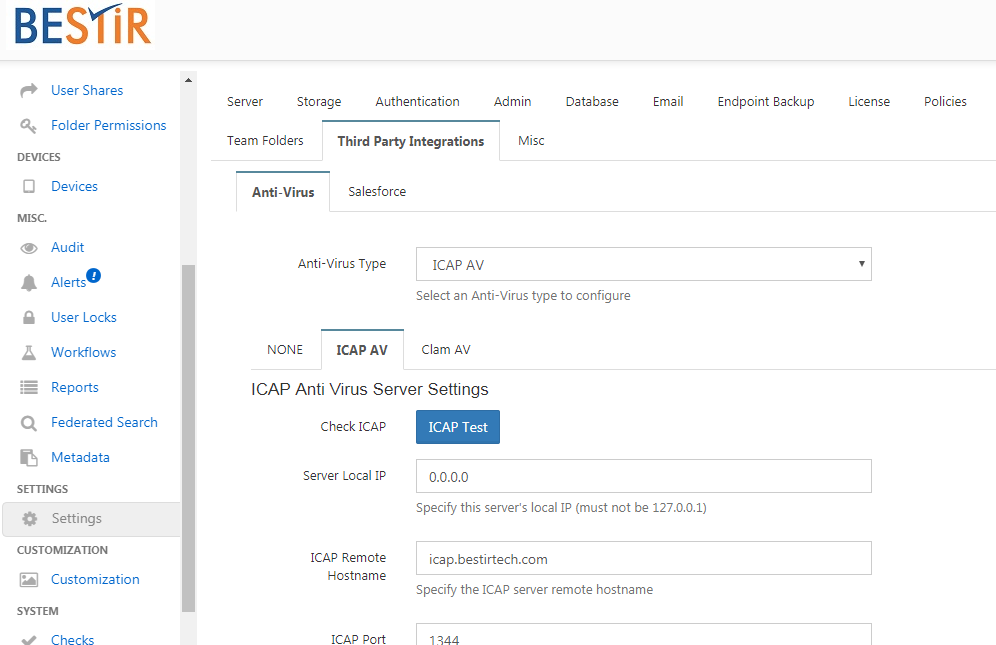 FileCloud DocIQ- The Ultimate Add-in for Collaboration
In today's workplace, it is a common practice for multiple stakeholders to collaborate with the same document. However, this approach typically requires employees, customers, and partners —  to switch between apps, send emails, and keep track of messages. So, when using FileCloud's DocIQ assistant, organization and display of relevant information come about without ever leaving the document. Therefore, DocIQ empowers you to accomplish tasks faster. 
Available as an add-in to Microsoft Office, DocIQ brings together relevant information from various streams into an intuitive and easy-to-read format that allows collaboration across the globe and multiple devices. Features include:
Avoid conflicts by using file lock when many users want to edit the same document

Prevent other users from downloading files currently being edited

Display details of persons you have shared files with and manage sharing access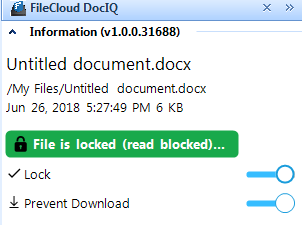 The above images indicate that the 'Prevent Download' option depends on the 'Lock' option. If the 'Lock' option is OFF, then the 'Prevent Download' option cannot be switched ON (2) and only if the 'Lock' option is ON, can the Prevent Download' option be ON (3). Whereas, if the 'Prevent Download' option is OFF, the 'Lock' Option can still be switched ON (1).
Please click the link below for more information on the additional features of FileCloud v18.2
https://www.getfilecloud.com/supportdocs/display/cloud/FileCloud+Server+18.2+Release+Notes
Also, if you require a demo on the features of FileCloud or any guidance in using FileCloud, please contact us, Bestir Software Services.
Editor for BestiTech Software Services Ltd