Companies now strive to implement a secure platform that allows internal employees to share files efficiently within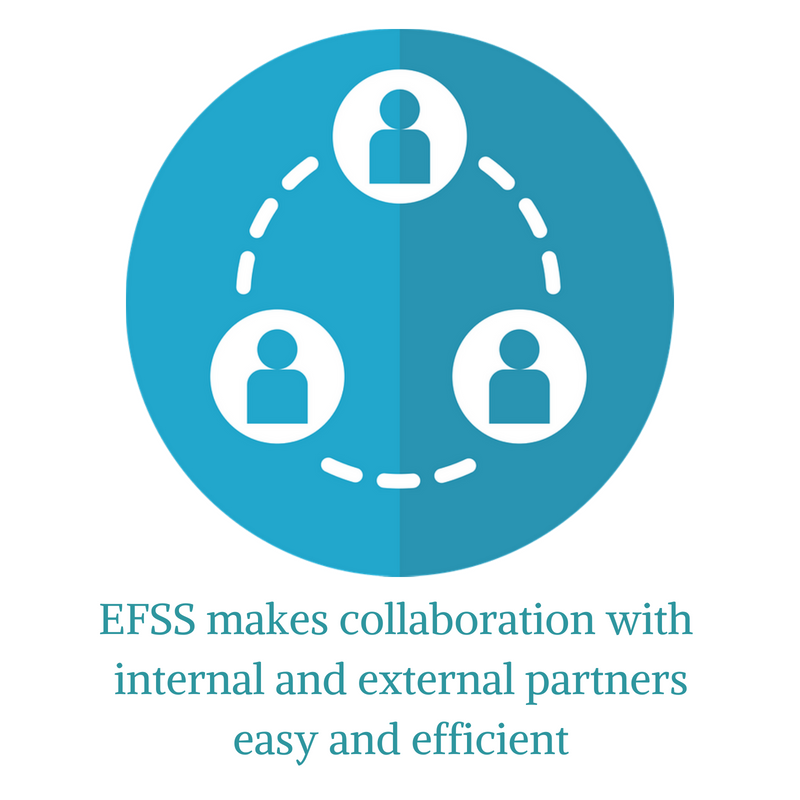 the company as well as with external partners. Luckily, Enterprise File Sync and Share (EFSS), also referred to as Content Collaboration Platforms, fits the bill perfectly.
A standard enterprise solution, EFSS systems describe software services that allow businesses to share and synchronize files, photos, documents, and videos securely with employees and external collaborators across numerous devices. The question is, do Indian companies really need EFSS technology? The answer is a resounding yes!
The current environment makes collaborating and sharing documents with external partners a pain. Why? Because email is non-secure, painful, inefficient, and unorganized. On the other hand, a business that uses an external collaboration solution is blessed with the proper tools to collaborate properly and grow holistically.
Numerous vendors want the lion's share of this growing space. The majority offer enterprise solutions that permit companies and their external collaborators to share knowledge and documents. This while working harmoniously in a structured, secure, and cost-effective scenario. But first, let's see how EFSS stacks up against traditional email services.
Why is EFSS rapidly gaining market share?
1. Security
Lot of Business-to-Business documents are proprietary in nature. Thereby when it comes to enterprise file sharing, security is a primary concern for businesses. Emails provide limited controls when it comes to sharing files. Also, once a file is shared via an email, it is hard to revert.  
Admins can use EFSS systems to create accounts for external partners. As a result, partners now stand to enjoy secure access to a file-sharing portal. The internal user is able to choose documents for sharing and offer certain permission levels for the files accordingly. External partners, on the other hand, will view and edit only the content to which they have permission to access. Importantly, any file shared accidentally, can be reverted by disabling the shared link.
EFSS solutions provide multiple levels of permission – view, download, edit, and delete – that give granular controls to the users. Moreover, EFSS solutions such as FileCloud provide additional special permissions. Some permissions are for restricting the number of downloads of a document, as well the availability of the document.

2. Structure
Usually, when a company collaborates with external partners and shares files, back-and-forth communication could result in a flood of emails each with different versions of the same file attached to them.
On the other hand, the presence of an external collaboration structure brings order to the chaos and sets up a knowledge pool. Businesses that rely mostly on protocols, reports, and other documents will stand to benefit greatly by switching to EFSS.
The technology not only brings discipline to the entire process, but it also improves the quality. Implementing EFSS in the workplace means that every party remains aligned with one another.
3. Governance
Enterprise File Sync and Share technology provides users with a sort of "one stop shop" component. This means that it offers one place for everybody to share their knowledge in.
Such a treasure trove of information results in the development of an efficient approach between the partners. EFSS Admins can enable this by setting up a document storage and communication plan from the initial stages. 
However, maintaining the security and functionality of custom sharing solutions is never an easy process. Thanks to effective management resources and well-established APIs, EFSS solutions allow IT to conserve precious time while implementing vital data governance policies. The majority of cloud EFSS providers have governance features, including retention policies.
4.Easy to share files – Especially Large Files
Almost every workplace has network drives for sharing files amongst the members of a specific department. However, it is inconvenient when users have to share a particular document among remote office locations or with an employee working offsite. However, if enabling private cloud EFSS (e.g. FileCloud), allows users to connect existing network drives. This way they can share files easily and simply with one another without having to work with any boundaries.
When it comes to sharing large files, sending files as email attachments is very inefficient. Attachments consume inbox space and take time to upload and download files. Using EFSS, users can share files as a link and the email recipients can download the files whenever they want.
5.Audit 


Many Enterprise File Sharing and Sync solutions come with user auditing, centralized log records, and controls. One of the biggest threats to the safety of a company is the practice of sharing files without the right permissions, as well as publicly sharing without password protection enabled. EFSS provides the right tools to review user activities and prevent any unauthorized file sharing. Many regulations require companies to maintain records of who, when, and what files have been shared. Having a central system to audit and provide the complete view of user activities will help companies to triage issues and resolve any compliance issues. 
Conclusion
Industries should adopt EFSS platforms instead of emails in order to better collaborate with external partners. Not only do these systems offer a total connectivity solution between external and internal partners; they form a structured, secure, and cost-efficient solution. The resulting outcome is a profitable and successful relationship between the parties.
Editor for BestiTech Software Services Ltd