FileCloud, a leading cloud-agnostic Enterprise File Sharing and Sync (EFSS) platform, announced its partnership with BESTIR Software Services in India. FileCloud and BESTIR are partnering in order to combine best-in-class technology and services, transforming file services and collaboration within organizations in India.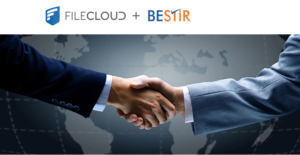 "One of our biggest advantages is that FileCloud integrates with existing infrastructure and file systems, hence our customers don't have to change their existing business processes and workflows," said Madhan Kanagavel, CEO, CodeLathe, Makers of FileCloud
In today's world, Enterprise users need to access, edit and collaborate on files from any device.  FileCloud is an ideal choice to serve the end-to-end external and internal file-sharing & collaboration needs of Indian enterprises. Mainly, FileCloud supports multi-cloud environments by allowing customers to store their data on the infrastructure of their choice across public, private or hybrid clouds.
With this new partnership, Indian customers will experience the control, security, and privacy of FileCloud, as well as the local support and technology services of BESTIR.  Some of the reasons why 1000s of leading enterprises prefer FileCloud over other enterprise file sharing and sync solutions include:
Administrator Tools: Effective tools to deploy and manage thousands of users and millions of files. Customers can get unique insights such as usage trends, access by geo and content mix on their business.
Customization: Organizations can customize FileCloud to reflect their brand. No other competing enterprise file sharing and sync product can match FileCloud's branding options.
Data Leak Prevention: Includes real-time monitoring of employee devices and actions with a detailed audit trail. Offers capabilities to prevent data loss and detect security threats.
Security: Comes with industry-leading security features including 2FA, encryption, Anti-Virus scanning and custom policies.
Ransomware Protection: FileCloud's heuristic file content scanning engine helps administrators to detect and block ransomware.
"We are super excited to bring a top-class technology enterprise file services platform to India. FileCloud is steeped in innovation and known for its customer support. With our deep experience in software development and services, we understand the unique needs of enterprises. Our goal is to ensure that the leading Indian organizations can take advantage of the best that FileCloud has to offer." said Anand Subramanian, Founder, BESTIR Software Services.
FileCloud is deployed across 90 countries and has more than 100 VARs and Managed Service Providers across the world. FileCloud is used by Fortune 500 and Global 2000 firms, including the world's leading law firms, government organizations, science and research organizations, and world-class universities.
About BESTIR
BESTIR Software Services is an India-based end-to-end IT company that delivers business organizations with integrated solutions to make business more efficient, agile, customer-centric and market focused. Specializing in the design, development and implementation of complex enterprise solutions that employ a 100 percent offshore model, BESTIR has delivered hundreds of projects throughout the U.S., the UK, Australia and India. For more information, please visit: http://bestirtech.com/who-we-are.
About FileCloud
FileCloud is based in Austin, Texas, and is a developer of unified, secure enterprise file service platform that organizes enterprise data, enhances collaboration and productivity while providing ironclad data protection. FileCloud's file sharing solutions offer powerful file sharing, sync, and mobile access capabilities on public, private and hybrid clouds. The company offers two products—Tonido for consumers, and FileCloud for businesses—that are used by millions of customers around the world, ranging from individuals to Global 2000 enterprises, educational institutions, government organizations, and managed service providers. For more information, visit www.getfilecloud.com.
Ref: https://www.businesswire.com/news/home/20180322005306/en/FileCloud-Expands-India-Announces-Strategic-Partnership-BESTIR
Contact us  for your Enterprise File Sharing (EFSS) and Content Collaboration requirements